Save money by buying home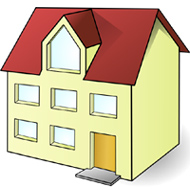 Here are some tips to help you buy a house, one of the most important events of your life, especially given the prohibitive costs that the housing market forces on land and buildings has increased exponentially in recent years. All you have to do is not to take the anxiety and fear of losing a bargain to conclude quickly can lead to hasty purchases with the risk of not finding what you are really looking for, and the best price.
To buy a house you can go it alone or rely on an estate agent, who will do everything to meet your needs, of course you pay for the service.
Real Estate
If you have decided to support a real estate agent, always remember to inform you well for the accuracy, reliability and professionalism of the estate agent concerned, especially before you pay any money or before you sign contracts, purchase orders or preliminary.
You should check with the Chamber of Commerce to find out if the agent is either registered brokers. By law it must be registered in that register which allows him, in case of sale of a property, to receive more or less than 2% of the price actually paid, however, is negotiable by both parties.
If the house is been inherited by the seller, make sure that inheritance taxes have been paid in full.
Here are the salient points to be followed for a good deal:
Make good attention to the conditions of the interior, exterior and the neighborhood.
Check the documents of the house.
Informed of the conditions of the seller.
Make sure the professional real estate agent or broker.
Before signing Read everything carefully and be sure you understand the meaning.
Pay a minimum deposit and keep a receipt quitenzata;
Try to spend as little time as possible to make the compromise to the deed;
Keep a receipt receipted always the balance to be payable to the seller;
If you have any doubt and uncertainty to contact your legal and notary.
It is advisable to visit the house several times, and at different times of day, to check the brightness of the rooms, any noise in the neighborhood, etc..