Discount Solar Panels - Why should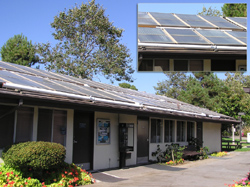 To further reduce costs in the bill, the solar panels are a good solution, provided we carefully evaluate the choice based on what your needs are.
The major alternative concerns the solar thermal or photovoltaics.
L 'heating system, it uses the sun's energy to produce hot water (shower, toilet, wash dishes, etc.), thus eliminating the consumption of electricity or gas and placing itself as a de facto replacement of electric water heater and boiler. It can also be used to supplement heating.
L 'photovoltaic system turns solar energy into actual electricity for domestic use.
FAQ
What is the average length of a plant and what its cost?
The duration of a bogged down is about 20-30 years, while the cost ranges from 10,000 to € 15,000, but there also to take account of technological improvement, market expansion and government incentives, as well as increasing competition, which also allows individuals to draw ever closer to these technologies, the cost of which is set to fall.
How do I position the panels?
Having to take advantage of the sunlight, the panels must be fully exposed to sunlight, oriented southward at an angle that can vary with the local latitude.
And if it's cloudy? During the night?
The problem has been outdated for some years, is proof the massive investment in renewable sources of these countries with sunstroke less than in Italy, like Germany and Austria. The panels work throughout the year.
What is the impact of panels on landscape?
In more modern buildings, the panels are fully integrated architecture of the house (sometimes reaching to improve the aesthetics), but you can also think of solutions for older homes and they leave intact the surrounding environment.
Finding your way in the choice?
The evaluation of multiple offers and is always a good habit.

Three Golden Rules decide:
The plant must not cost much. A high price is not always synonymous with quality, nor is it helpful to have a greater number of panels to their needs.
You should not have costs. The system must operate autonomously, without requiring special interventions which would lead to additional and unwarranted costs.
It should last a very long time. It is a major purchase that shows all of its convenience in the long run, then just opt for quality products.
This makes it easy to recover the investment for the plant, significantly reducing the costs of electricity and gas bills.