Discount on TV - Buying Guide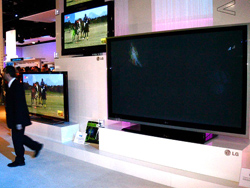 Inevitable and indispensable tool in our homes, even the TV is becoming more technological and sophisticated, which is why we at Sconto.it we tried to collect for you every indication that might be useful to make the right choice.

What are you doing?
Value for money: good and adequate performance for the price, fell into this category screens from 32 to 42 inches. From 32 to 37, we can move towards a HD Ready, while for larger sizes (from 42 inches and up) with HD you begin to notice the difference.
Home cinema: If you love watching movies at home in an atmosphere similar to that of a cinema, this is the kind of TV for you. Monitor Plasma 50 "or larger and all high-definition digital, blu-ray and other channels of the latest generation dedicated to HD.
Is a minimum frequency of 100 Hz to fully enjoy these TV that can make the best of high definition, for example, in action sequences. For those who are willing to spend more, you get even a Plasma 60 "with 200 Hz frequency.
Tv Secondary: To put in the kitchen or in the studio for an occasional use of TV, you can make do with smaller screens and inevitably lower quality, but also cheaper. It is indeed difficult to find TV 20 inch or even less than 200 €.
What characteristics do you consider?
Screen Size: Specifies the length of the diagonal of the screen and is expressed in inches. The longer the diagonal, the greater the effect of 'cinema'. But keep in mind the distance from which you look at the screen, consistent with size of the room. Needless to purchase very large screen if you can not arrange a proper distance:

Up to 2 m away from the TV screen - 37 "
From 2.4 to 2.7 m screen - 42 "- 43"
From 3 to 3.3 m - Screen 44 "to 50"
From 3.3 to 4.2 m - Screen 50 "to 60"
Over 4.5 m - the screen for more than 70 "
LCD or Plasma: Despite the progressive decrease in production of plasma TVs, these tools do not fail to get over the flaws, even compared to the advantages of LCD. To begin with, can be viewed from any angle, unlike LCD. Then show their full potential in the color contrasts, where black is perfect, while LCD models in the least developed is grayish. For its part, an LCD is not damaged in the presence of static images, which makes it rather unsuitable for the use of plasma console or PC, including ghosting, blurring or the trail that follows the fast-moving images. Issues that do not occur, however, to watch movies or television programs.
HD compatibility: standards for HD are HD Ready and Full HD, which allow you to make the most of 1080 lines for displaying the image, allowing enjoy every detail of the image.
Image rate: The standard travel tv on the 50 Hertz frequency, the current TV to 100 Hz, which means that the amount of images displayed per second is doubled, making it more fluid, but also more accurate and valuable, without follow the rapid movements the annoying ghosting.
Connectivity: If you plan to connect to your TV external tools such as blue-ray player, game console or another, make sure the presence of the necessary ports: analog jacks such as SCART, digital ones such as HDMI or Composite for more sophisticated systems and through which you may have to maximize their television.
Audio: In the face of increasingly higher quality video, audio, more often than not go hand in hand. Then, check there is a subwoofer Integrated audio quality acceptable, but for better performance, consider the speakers or home theater systems.


Withdrawal of old tv
Are you with the purchase of new remains of the old question of what to do, know that those who sold you the TV, right in the face of this purchase, you must take delivery of your free use.
To know in detail how to make the withdrawal, ask information to the retailer.