Discount for Students - University Facilities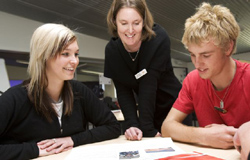 Given the significant costs that a family is required to maintain support for a child to university, we must point out that there are discounts for students who can help control costs and that maybe not everyone is aware. Here are some:
Reducing the price of tickets for museums or places of cultural and artistic interest.
Reducing the price of movie ticket.
Subscription price of the bus to lower.
Discounts on the purchase of a computer, but also books.
Fixed price menu in a few places to eat.
Ability to borrow in certain banks without the need for collateral.
To find out where to get these discounts, just read. The city offices of universities is certainly easier to find information on these kinds of deals. Also try to obtain information from the your university to find out what solutions has planned for their students.
To get the discounts, simply show your student ID or alternatively, the record book.